Custom Ruger 22/45 Pac-Lite
#2245CPL1
This is MaddMacs version of the Ruger LITE. This pistol is competition ready with many features. Upgrades are listed below.
1.
Ruger 22/45 receiver.
2.
Extended magazine release button.
3.
Extended bolt knob.
4.
Target Trigger job.....This process involves installing and polishing the VC Target hammer and sear to a mirror finish, reducing the hammer spring and installing set screws in the trigger for pre-travel and over travel. The Target Trigger job has a smooth break and much lighter than the factory trigger (<2lbs).
5. Magazine safety removed and replaced by a MaddMacs Stainless steel hammer bushing. Allows for the empty mag to drop freely every time.
6.
Hogue G10 G Mascus Checkered grips (Black/gray).
7.
TacSol Pac-Lite 6" upper. Matte Black with flutes, threaded barrel, 11 degree target crown and smooth thread protector. This barrel is 1.6" longer than the Ruger LITE giving better accuracy with a longer sight radius.
8.
TacSol Pac-Lite picatinny rail.
9. TacSol Fiber Optic front sight (red)
10.
MaddMacs 22/45 LITE compensator (#2245L014) in Black Oxide.
11. C-More Sight Systems RTS Red Dot Sight 3.5MOA (#MPTRTS1).
*This is an optional accessory and can be included after adding to cart.*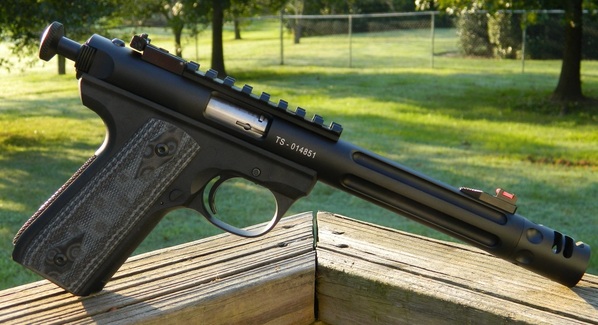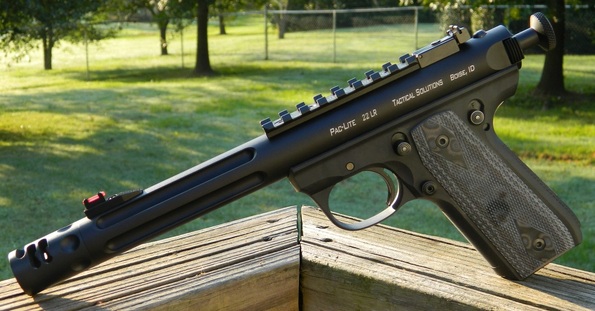 $995.00


FFL Restriction
Product requires a Federal Firearms License to be on file with MaddMacs. We need just one copy for all future orders. If we don't have a FFL for you, your order will be put on hold until it is received. You can email the signed copy of the FFL to jajones@maddmacsprecisiontactical.com.
---


Deposit Only
Select the "Buy Now" here to pay a 50% deposit on the above pistol to get your custom build started. You will be required to pay the remainder plus shipping once the pistol is built.
$495.00
OUT OF STOCK
Allow 3-6 weeks after payment or deposit is received for pistol to be built and ready to ship.
© 2016 MaddMacs Precision Tactical, LLC