Drago Gear 36" Single Gun Case w/accessories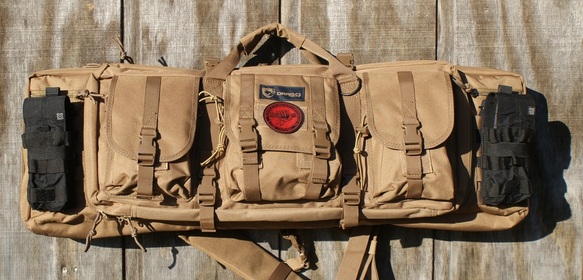 Drago Tactical Weapon Cases are designed to optimally secure and protect long guns, and come equipped with multiple storage areas to efficiently organize ammunition and accessories.
• Padded backpack straps for hands-free transport
• Three large storage pouches for ammunition and firearm accessories
• Dual zippered storage area
• Designed to protect a rifle during transport and storage
• Ergonomic shoulder strap for added carrying comfort
• Made of 600D Polyester
This case has been upgraded with two black 511 Tactical AR Bungee/Cover Single Mag Pouches and a 511 Tactical "Cold Hands" morale patch.

This case with accessories is a $146.00 value!

$124.95
#MPTDAR15S
---
---
Magpul PMAG MOE 5.56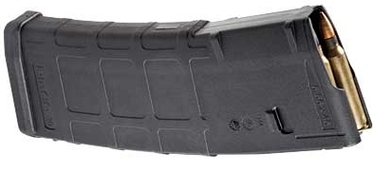 The PMAG 30 AR/M4 GEN M2 MOE is a 20 or 30-round 5.56x45 NATO (.223 Remington) AR15/M4 compatible magazine that offers a cost competitive upgrade from the aluminum USGI. It features an impact resistant polymer construction, easy to disassemble design with a flared floorplate for positive magazine extraction, resilient stainless steel spring for corrosion resistance, and an anti-tilt, self-lubricating follower for increased reliability.
*Round capacity choice after clicking "Buy Now"*

$15.95 - $16.95 #MPTPMAG556

---
---
Magpul MagLink Magazine Coupler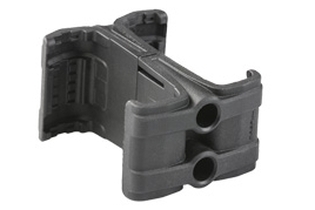 The MagLink is a coupler for PMAG 30 AR/M4 GEN M2 MOE and GEN M3 magazines which allows the user to attach two magazines together for more efficient speed reloads, and to keep an additional 30 rounds of ammunition accessible on the weapon at all times. The MagLink features a two-piece bolt on design and durable, lightweight reinforced polymer construction.

$16.95 #MPTMLC30

---
---
Troy Folding M4 Front Sight Offset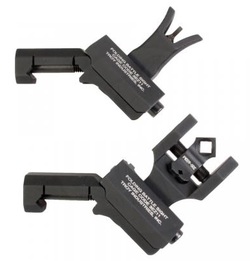 Durability and dead-on accuracy have made Troy Industries Folding BattleSights the choice of Special Ops and tactical users worldwide. The TROY 45 Degree Folding BattleSights fold compactly to both sides of the rifle. With an ambidextrous sight base, TROY 45 Degree BattleSights work seamlessly with magnified optics. Easy to install and deploy, these sights position apertures at factory height. A stainless-steel cross-locking system ensures sight remains upright and zeroed under extreme combat conditions.
*Black Only*
$234.95 #MPTTM4FOS

---
---
Geissele Super Semi-Automatic (SSA) Trigger Group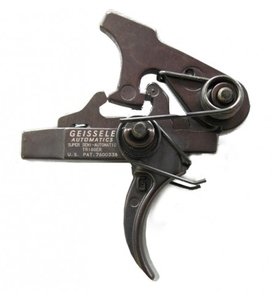 The Geissele Super Semi-Automatic (SSA®) trigger is a semi-automatic only version of Geissele Automatics's Super Select-Fire trigger. The SSA is a 4.5lb. non-adjustable combat trigger that is a precision two-stage trigger and allows precise and accurate trigger control (2.5lb first stage, 2lb second stage). The SSA's two-stage design allows the trigger to be light enough for accurate and precise shots, but forgiving enough for CQB. The SSA is safety certified by Crane Naval Surface Warfare Center. It is recommended for demanding applications such as Law Enforcement use, Close Quarters Battle (CQB) and mid-range carbine work.

$214.95 #MPTGSSA

---
---
Magpul MS4 Dual QD Sling GEN2 w/RSA-QD Rail Sling Attachment

Filling the same mission requirement as the standard MS3 Sling, the MS4 can quickly switch between one-point and two-point configuration. The MS4 maintains material construction and specifications identical to that of the standard MS3, but features two heavy-duty push-button QD sling swivels rather than the Magpul Paraclip™ aling with a steel D-Ring to allow one to two-point convertibility. This modification allows compatibility with QD sling cups commonly found on lower receivers, receiver end plates, buttstocks, and many low-profile forward QD Sling mounts, including the Magpul RSA-QD which is included with purchase.

$84.95 #MPTMS4RSA

---
Daniel Defense M4 URG, M4A1


The Daniel Defense M4A1 Upper Receiver Group features the M4A1 Rail Interface System (RIS II), which has been in use by US Special Operations Command (SOCOM) for the SOPMOD II Weapons System since 2005. This two-piece, free-floating rail system allows the mounting of devices like a M203 grenade launcher without influencing the barrels harmonics, eliminating problems like wandering point of impact that plagued other mounting designs. The two-piece design also allows for partial disassembly of the rail to aid in cleaning around barrel without completely removing the entire rail system. The weight of anything attached to the RISII rail system is fully supported by a sturdy bolt-up system, using 6 grade 8 bolts, leaving the barrel completely free floating for best possible accuracy and dependability. The M4A1 features a 14.5" Cold Hammer Forged M4 Profile barrel with a permanently attached Daniel Defense Improved Flash Suppressor to meet the NFA required 16" length. Daniel Defense complete upper receiver groups come complete with bolt carrier group and charging handle.

$1199.95 #MPTDDURGM4

---
---
Daniel Defense Collapsible Buttstock-Mil Spec+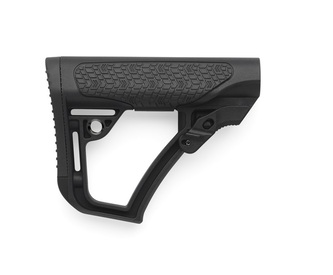 The Daniel Defense adjustable buttstock is constructed of a proprietary blend of glass infused polymers and finished off with soft touch rubber overmolding in strategic points. The new buttstock is precision formed for mil-spec receiver extensions to have very little forward or lateral play that is so common in many other buttstocks. This eliminates the need for a tensioning device or friction lock. All of this results in a durable buttstock that will give the shooter a comfortable and repeatable cheek weld and unprecedented control of the firearm. The buttstock can be run with one of two included buttpads or without any buttpad at all to custom fit the rifle to whatever gear the operator must wear. The buttpads come in two sizes: a thicker convex shape (0.8"), and a thinner concave shape (0.5"); designed to keep from snagging when shouldering the rifle. Limited rotation QD swivel attachment points are integrated on both sides of the buttstock for ambidextrous sling connection.

$68.95 #MPTDDCB-blk

---
---
Daniel Defense Pistol Grip - Black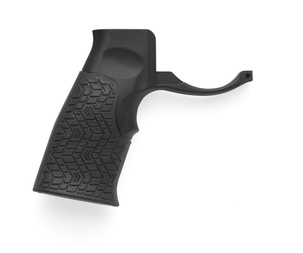 The new Daniel Defense pistol grip is an improvement to the old standby A2. We designed our grip with ergonomics and controllability in mind. Our grip shares the angle of the classic 1911 pistol for the most natural hand position and comfortable feel. This pistol grip incorporates an oversized trigger guard covering the gap between grip and lower receiver which can wear on the shooters hand and easily accommodates for gloves. Installation is simplified by the fact the integral trigger guard doesn't require a roll pin so there is a reduced chance of damaging the lower receiver. A soft touch overmolding section enhances grip, wet or dry.

$28.95 #MPTDDPG-blk

---
---
Daniel Defense Omega Rail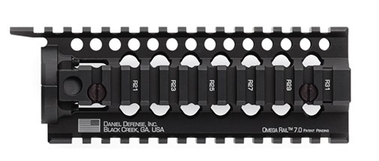 The Daniel Defense Omega Rail® system is the most exciting rail system to hit the market in years! The Omega Rail is a free float rail system that allows the individual operator to easily install it with the provided Allen Wrench and requires ZERO modification to the weapon! The Omega Rail features an integral QD sling swivel mount, with rotation limiter, and an uninterrupted upper rail platform. This light weight rail system is meticulously CNC machined from Aircraft Grade Aluminum and is Military Specification Type III Hard Coat Anodized. All the Omega Rail fasteners are military specification.
7.0 Carbine, 9.0 Mid Length & 12.0 Rifle choices available after clicking "Buy Now".

$248.95 - $308.95 #MPTDDORBLK

---
---
Noveske LW Contour Barrel, 5.56NATO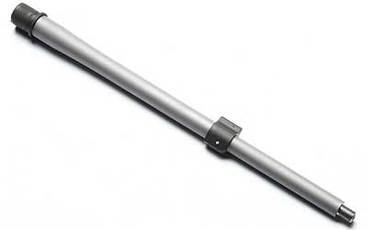 Stainless Barrel
--1 in 7" twist improved polygonal rifling with 556 Noveske Match Chamber
--Extended feed ramps
--Bead blasted finish
--Gas tube
--Pinned Low Profile Gas Block, .750
--1/2x28 threads
--Light Contour
Available in 16" or 18" length

Option to have your new Noveske barrel DuraCoated in Tactical Black after clicking "Buy Now"

$454.95 #MPTNLWCB

---
---
© 2016 MaddMacs Precision Tactical, LLC