Ruger 10/22 barrel threaded with front sight

MaddMacs is now offering a barrel threading service for the standard 10/22 factory barrel. Threaded at 1/2-28TPI with the front sight moved back and the barrel crowned with an 11 degree target crown. The front sight band with dovetail is removed to allow more space to thread the barrel then re-installed. No need to buy a new stock with a .920" channel to have a threaded barrel. Drop in replacement takes minutes. Comes with a smooth thread protector that makes the threaded end disappear.
For more information on shipping your barrel to MaddMacs, click here.

Compensator for this barrel offered below!

Barrel length - 17.5"
Ships to U.S. ONLY
10/22 factory carbine barrel threaded at 1/2-28TPI and front sight re-installed with FREE smooth thread protector. Email Jason at jajones@maddmacsprecisiontactical.com with any questions.
$130.00
You will not need to send any payment with your barrel. You will be contacted by telephone once your barrel is threaded and ready to ship.
---
Ruger 10/22 "mini" compensator #1022RMC1

This is a custom built "mini" comp designed for the barrel above. It's made from 6061-T6 aluminum making it extremely light weight but strong enough to withstand countless rounds. When screwed on the barrel, the precise fit makes the comp and dovetailed sight band look as if it's one piece. Spiral port design with deep recessed 90 degree crown. DuraCoated for a tough durable finish and exact match to the Ruger 10/22 barrel threaded with front sight.
Also available in Stainless Steel.
OD - .800" with taper Length - 1.5" Threads - 1/2 -28TPI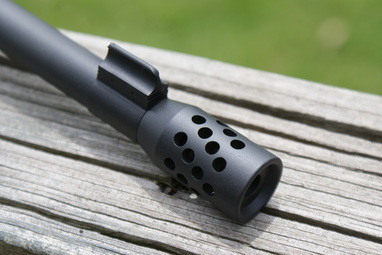 $32.95 - $57.95